The oldest house in Armagnac, the Dartigalongue family began to distill in 1813 - they do not currently own vineyards, and work in partnership with the coop to get grapes of great quality. They take pride in maintaining the family traditions of service and quality and living up to the family motto of "My Armagnac, my strength". It was in 1838 during the reign of Louis Phillipe that Pascal Dartigalongue (originally from Saint Lannes near Madiran) moved to Nogaro in the Gers and founded his Maison d'Armagnac. He very quickly realized that armagnac could be a successful export product. Despite many difficulties he managed to send oak casks of armagnac to Bayonne where they would be shipped to Holland and England.
Dartigalongue is in the western part of the Bas Armagnac - the soils of the west are sandier than those to the east. Vines grown in sandy soils tend to produce grapes with higher acidity, which results in very round spirits with plenty of finesse. Dartigalongue has the particularity of using mostly Gascogne oak (90%) that gives the eau de vie more spicy notes than armagnac aged in Limousin oak. The Armagnac are aged in 18 different cellars, and are aerated a lot, in big vats, to obtain the right balance between alcohol and aromas. Total production is around 5000 cases per year.
Dartigalongue Website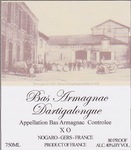 Bas-Armagnac XO (10 years)
XO in Armagnac has to be aged for a minimum of 6 years.
Dartigalongue ages its XO for 10 years. Warm and honey gold color, scents of almond paste and fruit. In the mouth, the wood is light and not overpowering, allowing some flavors of tropical fruits, apricot and vanilla. The finish is long and elegant.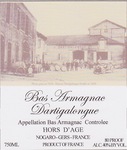 Bas-Armagnac Hors d'Age (15 years)
Hors d'Age in Armagnac has to be aged for a minimum of 10 years. Dartigalongue ages its Hors d'Age for 15 years.
Deep amber color, scents of baked apple, butter and black oak. The mouth is vibrant and generous, featuring baked apples, oak, some toffee and vanilla with hints of tobacco toward the end. The finish is long, fat and silky.



Bas-Armagnac 1985
Blond tobacco, honey color. The palate is round, subtle, with aromas of Corinth raisins, dry fruits, white flowers. Very soft and delicate finish. A delicate, elegant, quite feminine vintage, with a nice fruitiness.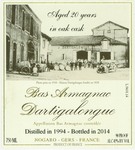 Bas-Armagnac 1994
Nose: smoked oak, candied fruits, quite powerful.
Palate: frank, generous, aerian, the alcohol is well integrated, developing aromas of wood, liquorice. The finish is quite long and dry, with candied fruits notes and spices. Typical from Dartigalongue style, a nice and rich full-body 20 years old.


Grande Eau-de-Vie
Using the solera method, the age ranges from 25 years to 35 years.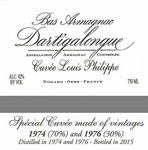 Cuvée Louis Philippe
A unique blend of the 1974 and 1976 vintages, this special cuvée was created in 2008 to celebrate Dartigalongue's 170th anniversary. 1974 brings tannins, while 1976 brings fruitiness and lift.