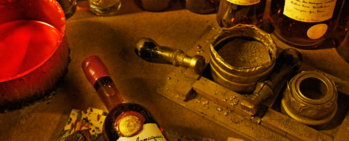 See press for Marie Duffau ARMAGNAC Born in 1875, Prosper Delord started the company as an itinerant distiller. He gained a reputation for his dedication and expertise by carting his traveling pot still around to farms in the Bas Armagnac region. Later, he married Marie Duffau and in 1925 they officially founded the company with their son Gaston. They established the business as a permanent site in Lannepax and the armagnacs were sold under the two names: Delord and Duffau.
Today, great grandsons Jerome and Sylvain carry on the same tradition and have established a reputation for quality that is unsurpassed. Owners of a prime 20 hectare vineyard in the heart of Bas Armagnac, (widely known as the 1st Cru), they have been distilling, aging and blending their eau de vie in the exact same way their great grandfather. The aging cellars contain armagnacs dating back to 1904.
When touring the distillery and cellars, it feels as if time has stopped and you almost expect to see grandfather Prosper coming around the corner pulling his itinerant pot still with the help of his two cows. Even though the company's main business name is still Delord, they have always been selling under both names, Delord and Marie Duffau.
The great success of Marie Duffau Armagnac is owed in part to :
- Use of high quality fruit harvested from the best soils of the Bas Armagnac.
- No use of pesticides or fertilizers
- A smart use of the grape varieties: 70% Ugni blanc (for a good foundation), 20% Baco (gives roundness), 5% Colombard (herbal aromas) and 5% Folle Blanche (floral notes). The Delords grow their Colombard, Ugni Blanc, Baco and Folle Blanche.
- A particularly slow single distillation process.
- A distillation at low temperature (around 54-58 degrees), which enables more flavors, fatty acids and character to remain in the spirit.
- distillation in small batches
- Aging in 10% Gascon oak to give good tannins, darker color and beautiful spices - the remainder is in Limousin oak (giving a more fruity style).
Marie Duffau Website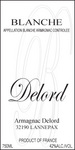 Blanche Delord
The Blanche AOC was created in 2005. It represents a renaissance of traditional Armagnac eau-de-vie rekindled by the producers. Coming from the same Armagnac terroir, it is the result of a thousand year old savoir-faire of distillation. The new AOC defines the production conditions of the Blanche:
- It can only be produced in the Armagnac zone from parcels of vines already identified.
- It can be produced with the four main grape varietals from Armagnac; Ugni Blanc, Baco, Folle Blanche or Colombard.
- It must be kept in inert containers as soon as the distillation is finished and can only then be considered for assessment after three months of maturation. Delord's Blanche, from 100% Colombard, is rich and fruity, strong and round, and therefore can be consumed in a variety of ways. - Pure, at room temperature, chilled or with an ice cube, just so you can appreciate the true beautiful flavors and roundness - In a variety of cocktails ; it usually pairs well with citrus flavors, red berries, kiwi and also chocolate.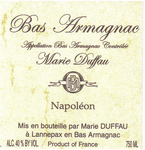 Bas Armagnac - Napoleon
Minimum of 6 years by law, Duffau Napoleon is a minimum of 10 years. Flavors of cocoa, orange rind, cake batter and vanilla. Soft tannins on the finish and a touch of rancio. 40% Alcohol.


Bas Armagnac - Hors d'Age
Minimum of 10 years by law, Duffau HA is a minimum of 12 years. Very aromatic. Rich flavors of toffee, old oak, plum and raisins: elegant rancio and long round finish. 40% alcohol.
Rated as one of the Top Ten benchmarks of all Armagnac produced today in April 2007 Wine Enthusiast.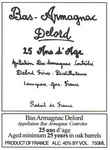 Bas Armagnac - 25 Year Delord
This superb blend displays flavors or cocoa, spices, vanilla, raisins, walnut and cinnamon. Its finish is long, silky and biscuity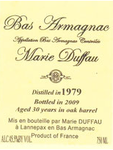 Bas-Armagnac 1979
Vintages can be made in any year, but by law cannot be sold at less than 10 year old. Old copper color with orange hues, shiny and limpid. The nose is rich with silky aromas of vanilla, cocoa, butter and warm wood. In the mouth, the flavors remain centered around the vanilla and oak wood flavors with addition of fruit pit and walnut. The finish has very pleasant and persistent notes of rancio and butter. 45.5% Alcohol